Babau bags with seat belt and inner light. Handmade in Barcelona.


The interior has ample space lined with soft red fabric with 8 pockets for quick access. Just press a button, the two high intensity LEDs are activated long enough to easily find what you need in your bag Babau, the light will slowly fade to off after about 15 seconds alone.
The lighting system is integrated into the same bag and comprises two Led ligths, an actuator button and
a removable battery included.
Is studied in detail, the location of its components, the angle of the Leds, its construction and hard button, the optimum time during which the light is on, and the use of batteries with a
duration tested over two years.
Small measures: 32 x 21 x 11cm Weight: ≈640gr · Medium measures: 38 x 28 x 11cm Weight: ≈840gr · Large measures: 48 x 32 x 11cm Weight: ≈990gr
---
Details
Outer:

- Made with seatbelt obtained from factory surplus.
- Top zipper closure.
- Adjustable strap to transform into different bags.
Inside:
- Soft red fabric.
- Inner Light (Timed LED lighting system).
- 8 easy access pockets.

Adjustable strap that allows make multiple forms of bag: cross, over the shoulder, hand, backpack and others.
---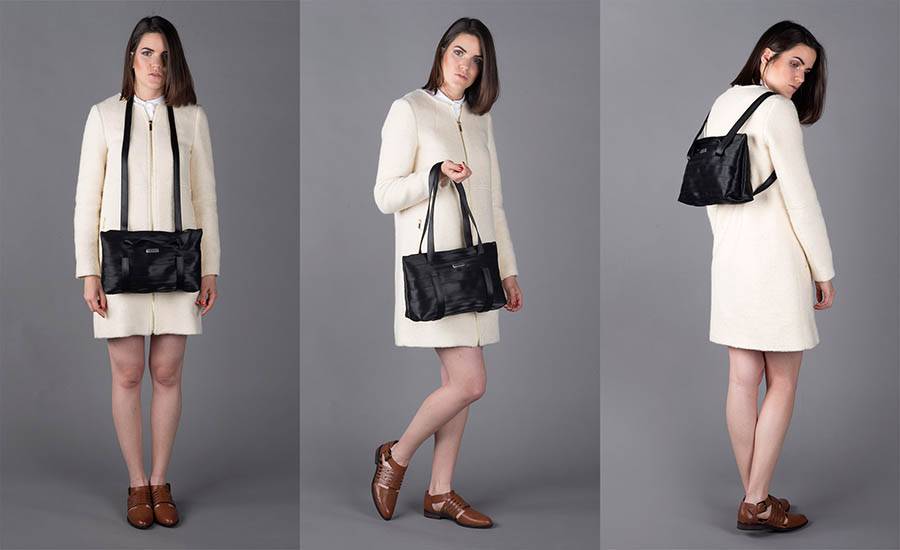 Small Babau Bag: 32 x 21 x 11cm Weight: ≈640g
---
Medium Babau Bag: 38 x 28 x 11cm Weight: ≈840gr
---
Large Babau Bag: 48 x 32 x 11cm Weight: ≈990gr
---